The Woodlawn Powerlifting team hosted the LHSAA/LHSPLA East Regional this past weekend at Woodlawn High. The Panthers had multiple lifters break school records and qualify for the Division I State Meet.
On Friday, February 28th, the Lady Panther powerlifters took to the platforms.
Hallie Rozarto placed 2nd in the 114 pound weight class while setting the school records in the squat and total weight for her weight class.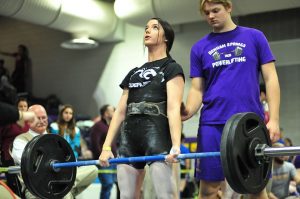 Breanna Russell participated in the 123 pound weight class. She finished third in her class while setting the school records for the bench press, deadlift, and total weight for her class.
Other Lady Panthers who participated and placed were Victoria Alder, who placed 4th in the 148 pound class, Destiny Leger, who placed 4th in the 132 pound class, and India Morgan, who placed 5th in the 123 pound class.
Hallie and Breanna each qualified for the State Meet, which will be held at ULM on Friday, March 20th.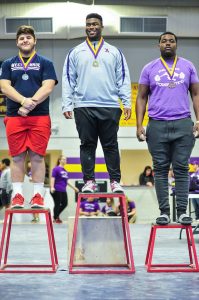 The Panther powerlifters followed the Lady Panthers on Saturday, February 29th.
Jonero Scott led the way for the Panthers, placing 2nd in the 198 pound weight class.
Tim Bennett finished 3rd in the Super Heavyweight class. He set Woodlawn High records in the bench press for his weight class.
Quentin Ross and Mason Watson also competed and placed for the Panthers. Quentin placed 4th in the 275 pound weight class, and Mason placed 4th in the 181 pound weight class.
Jonero qualified for the State Meet and will represent Woodlawn High on Saturday, March 21st at ULM.
Coach Baronich and the Athletic Department at Woodlawn High would like to thank all of the sponsors of the 2020 East Regional: Platform Sponsors – ISC Constructors, LLC, K-Watt Electric, LLC, Peak Performance Physical Therapy, and Total Care Injury and Pain Center. Table Sponsors – Chick-fil-A, Jostens Class Rings, and Papa John's Pizza. Meet Sponsors – Acadian Ambulance, Addis Athletics and Apparel, Coca-Cola Bottling of Baton Rouge, Fleur De Lis Donuts, Hi Nabor Supermarkets, Kleinpeter Dairy Farms, LLC, Mason's Grill, Outback Steakhouse, Raising Cane's Chicken Fingers, Shoppers Value Foods, Winn Dixie Stores, and Zaxby's.