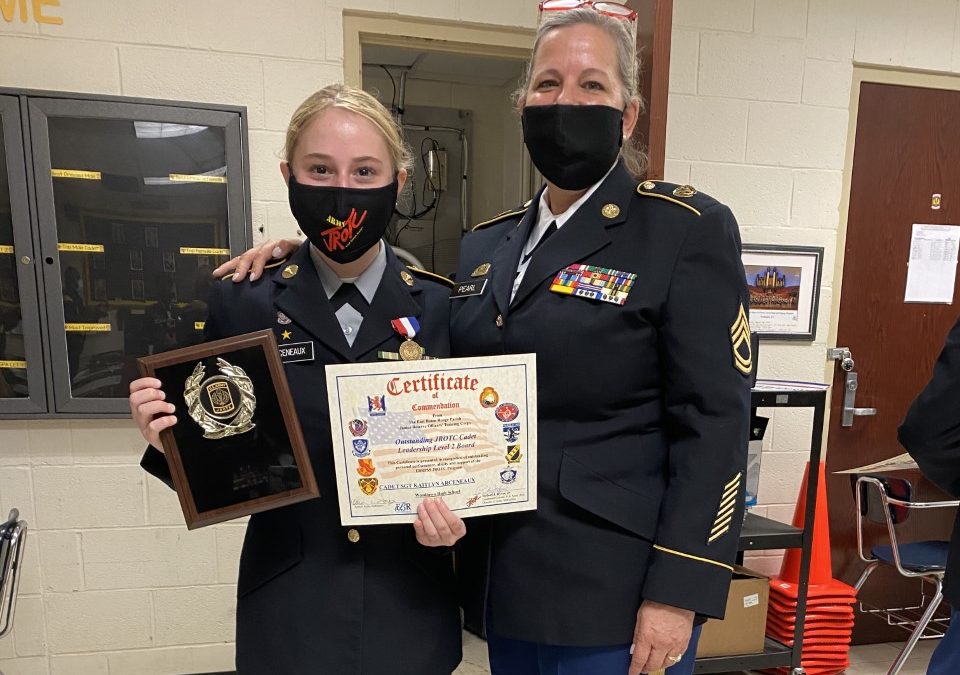 Kaitlyn Arceneaux is in her second year of the Woodlawn High School JROTC program. During her first year in the program, as Private First Class, Kaitlyn found that she truly enjoyed the JROTC program. She stood out in her LET group, and was promoted at the beginning of her sophomore year to Cadet Sergeant.
Later during her sophomore year, Cadet Sergeant Kaitlyn was chosen to represent the Woodlawn High School JROTC Department for the East Baton Rouge Parish District LET II competition.
"I was very excited when I found out that JROTC staff selected me as the LET II representative for Woodlawn High," said Arceneaux. "There were several other qualified cadets that they could have selected, so I was surprised and honored to be selected."
On February 11, 2021, Cadet Sergeant Kaitlyn Arceneaux competed with other cadets in the Baton Rouge District. She did an outstanding job and placed second in the competition.
"Kaitlyn represented Woodlawn High School very well and the JROTC staff is extremely proud of her," commented Sergeant First Class (R) Jill Pearl. Kaitlyn has worked very hard and been a dedicated cadet in our program for the past two years. The staff looks forward to watching her grow as a leader and see what she accomplishes in the next two years."
Outside of the JROTC program, Arceneaux has maintained a 4.5 GPA at Woodlawn High School. She is a two-year varsity letterman for the Lady Panther soccer team, and has recently joined the Lady Panther softball team. She plans to attend LSU after her time as a Panther, and hopes to one day become a veterinarian.