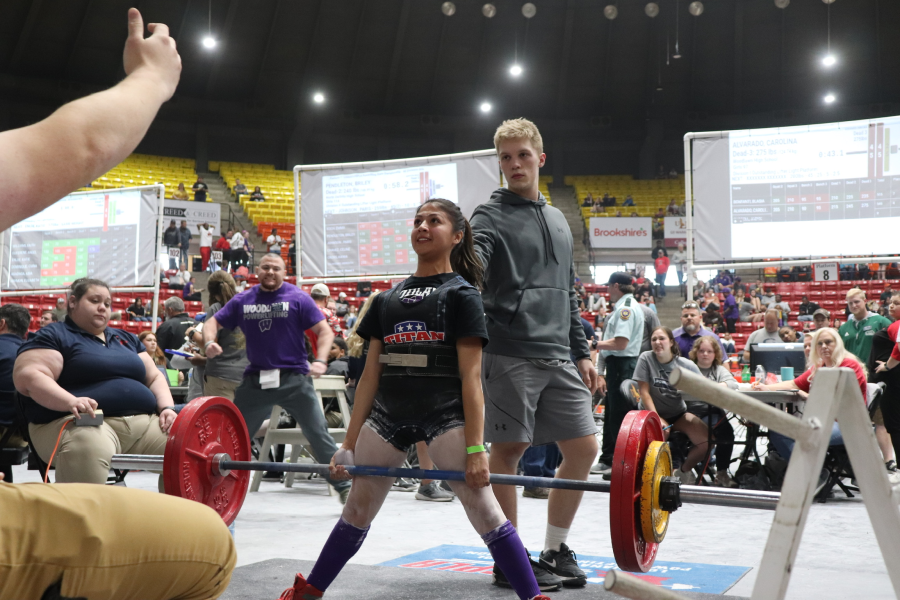 Senior Carolina Alvarado has brought the first State Championship in the sport of Powerlifting to Woodlawn High School. The Panthers have participated in Powerlifting for less than a decade, but Panther lifters have consistently qualified for the State Meet. However, no lifter has been able to be crowned State Champion until now.
Alvarado, who placed second in Regionals, competed in the 97 pound weight class. She posted three personal records on the way to the state championship. Her squat of 210 pounds and bench of 90 pounds each bested her personal records by five pounds. However, it was her dead lift that was the difference between first and second place. Alvarado had a previous record of 235 pounds. Lifting that weight again would have placed her second in the competition. First-year coach Knute Douglas knew she could lift more weight and went for the State Championship by listing 275 pounds as her final attempt. When Alvarado successfully lifted the weight, Woodlawn High had it's first Powerlifting State Champion.
Alvarado was not the only bright spot in Panther powerlifting this season. For the first time in the history of the school, the boys' team won the Regional Championship. The Panthers also placed 5th overall at the state competition. The Panthers were led by senior Amani Givens, who finished runner-up in the 198 pound weight class.
Coach Douglas was extremely proud of all of his lifters this season.
"Year one has been a great ride, filled with fantastic moments," said Douglas. "This year's boys and girls teams have seen lots of first-time achievements in school history and will be a great foundation to build upon moving forward as we strive to make Woodlawn High School Powerlifting a Championship Program."
Woodlawn was represented by four girls and five boys at this year's State Meet. In addition to Alvarado, Krystel Amo (105 pound weight class), Celine Thomas (148 pound weight class), and Marie Sierra (165 pound weight class) also competed. All three Lady Panthers had top ten finishes. Freshman Amo finished eighth and juniors Thomas and Sierra finished fifth and fourth.
Willie Nunnery (123 pound weight class), Mason Watson (198 pound weight class), Hunter Thomas (242 pound weight class), and Devyn Jones (275 pound weight class) joined Givens to represent the Panthers. Juniors Nunnery and Jones placed sixth and fifth, and seniors Thomas and Watson each placed fourth.