Like many people, sophomore Lauren Earl has always wanted to be a business owner. Unlike many, Lauren did not only dream about starting her own business, she did it.
"For my 14th birthday, I ordered a birthday pin for myself," Lauren explained. "As my birthday got closer, I found out that the pin was not going to be made. I asked my mom if we could go to Hobby Lobby, and I made my own pin."
The pin created buzz on social media, and soon Lauren was getting messages from friends and family asking if she could make their birthday pins. This led to the creation of her business.
In February of 2019, as an 8th grade student, Lauren created Luxe' Creations by Lauren. Lauren is self-taught, relying on books and YouTube videos for inspiration. The business specialized in pins for birthdays and special events.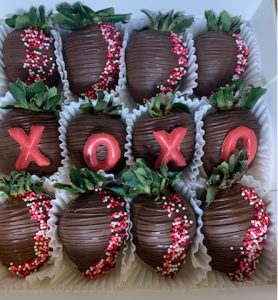 In March of 2020, just as business was beginning to increase, Covid-19 shut the state of Louisiana down. Unlike the state, Lauren's spirit was not shut down.
"When the state went into lockdown, we could not get my supplies for pins as frequently as we could before," said Lauren. "People weren't asking for the pins as much, either. Nobody needed a birthday pin when they could not go out for their birthday."
"I was watching TikTok one day, and saw a video of a girl making chocolate covered treats. I knew that I could do the same things she was doing."
Luxe' Creations by Lauren has turned into a business that provides a variety of treats, including chocolate-covered strawberries, pretzels, Rice Crispy treats, Oreos, cake pops, cakesicles, and hot chocolate bombs. Orders are prepared as they are made, allowing Lauren to customize her products to meet her customers' needs. Lauren has built a loyal customer base, and her business continues to grow from social media exposure and word of mouth.
She has also been able to continue growing because of the support she receives from her parents, Lawrence and Mekisha.
"My mom and dad have always been supportive of everything I do, from dance and volleyball when I was young, to Luxe Creations now. Their support and guidance mean everything to me."
When Lauren is not busy growing Luxe' Creations, she stays busy at Woodlawn High. She is a Great Scholars student who carries a 4.31 GPA while taking advanced level and AP courses. Lauren is also a member of Woodlawn's Talented Theater program and an active member of the DECA Chapter. She is also a member of the Lady Panther Volleyball team and participated in Powerlifting as a freshman.
Lauren wants to encourage others who are dreaming of starting their own business to "just start it. If you really put your mind to something and set your goals, you can achieve anything."
Anyone interested in placing orders with Lauren can contact her through her Instagram account, @luxecreationsby_lauren, or through her Facebook account, Luxe Creations by Lauren.