Rickie Collins #reconsidered last week, and now he's staying home.
Woodlawn High's senior quarterback announced Wednesday evening his commitment to LSU in the midst of an overflowing Mason's Grill just 1.5 miles up Jefferson Highway from school.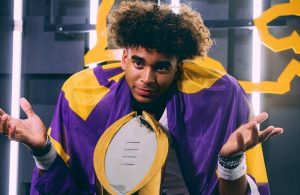 "It's just a blessing to be able to say I can play in front of my hometown," Collins said. "It's always been a dream to be able to play in Tiger Stadium and be able to play in purple and gold, so we're finally just being able to turn it into a reality."
The 6-foot-3, 185-pound passer is now scheduled to become the Panthers' first football player in decades to sign scholarship paperwork with the hometown program when he's able to do so in December.
His mother, Precious Collins, couldn't contain her tears or big smiles as the celebration event she'd coordinated for the past week reached its peak.
"Oh, I'm a nervous wreck," she admitted. "I'm a ball of emotions, but excited… Staying close to home for me is a big deal. I wanted Rickie to go where he was comfortable, and ultimately he decided to make home home, so that's a blessing for me."
As much as Rickie grew up admiring the Tigers across town, that destination was far from given during his recruiting process.
LSU initially extended a scholarship offer in the summer of 2021 under then-coach Ed Oregon and the previous staff after watching him and the Panthers torch through the program's annual high school 7-on-7 tournament.
But a drawn-out coaching change over the course of much of the season and a hard charge by Purdue had both LSU and Rickie looking elsewhere for much of their respective processes.
Collins committed to the Boilermakers in early October and remained so for the better part of 10 months even as LSU and others ramped up their overtures.
But the consistency of Purdue's contact waned following the departure of special teams coordinator Marty Biagi — a staffer whose Louisiana ties had helped expand inroads in the state — for Ole Miss.
And the rapport with and prioritization by the dream school as other dominoes in the class continued to fall just across town became impossible to ignore.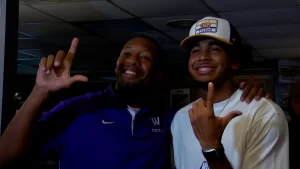 New quarterbacks coach Joe Sloan, who had initially extended an offer to Collins at Louisiana Tech early in 2021, led the charge, with Baton Rouge native and offensive line coach Brad Davis, offensive coordinator Mike Denbrock and head coach Brian Kelly also getting involved.
"It's been good relationship, especially with coach Sloan, like you said, and coach Davis and coach Denbrock and coach Kelly," Collins said. "So ultimately the people I have to work the closest with, I have great relationships with those people."
That group won't coach its first game together until Sept. 4 against Florida State, another program that heavily pursued Collins this summer.
But he said he's heard and seen enough to trust in the vision and execution ahead.
"I just see the change in culture," he said. "And I know what coach Kelly can do, and I know what coach Denbrock can do. And I know how coach Sloan can produce and make a quarterback better. And I know coach Davis is gonna get the best five on the field to block.
"So just having confidence in them, I just have that trust that they're going to do their job, and they trust that I'm gonna come in and earn my stripes and do what mine."
Collins was eager to sew up his recruitment before his final high school season as he and his decorated senior class eye program history.
Running back Jay'veon Haynes and offensive tackle Roy Brackins committed earlier this year to Louisiana (Lafayette) and Louisiana Tech, respectively. Defensive back Dezaray "D.J." Delmore Jr. shared his pledge to Southeast Missouri State on Thursday, and cornerback Jordan Matthews will announce his own plans Monday between finalists Texas, Tennessee and Michigan.
And other classmates may not be particularly far behind.
"It feels good ultimately just because I can get it out the way and focus on the ultimate goal of getting to the state title game and winning it," Collins said. "We're just trying to take it one game at a time and go 1-0 every week And getting the college decision out the way early, I can do that and focus on the season."
The quarterback said he doesn't plan to take any other visits and that his recruitment won't include any further developments.
"It's a done deal," he said. "Closed off. I'm locked in. I don't really have anything else or anywhere else set up. It's just going to LSU, and I'm going ride-or-die."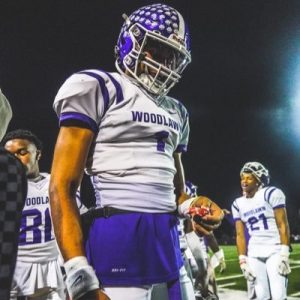 Collins joins LSU's 2023 class on the immediate heels of Catholic (Baton Rouge) wide receiver Shelton
Sampson Jr., whose commitment announcement Saturday he traveled across town to attend.
And he echoed his high school rival and 7-on-7 teammate's now-trending sentiments of "Why not LSU?" four days later as he looked at the way the Tigers continue to add in-state pieces to their national heater to open July.
"There's a lot of great players here," Collins said. "So why not keep 'em home and play for the home state?"
Collins became the 19th member of the cohort and sixth from Louisiana, including the past three prospects to announce: St. Augustine offensive tackle Tyree Adams to end July and now Sampson and Collins this week.
Running backs Trey Holly of Union Parish and Kaleb Jackson of Liberty Magnet and Archbishop Rummel defensive back Ashton Stamps made their moves earlier in the summer.
And Collins has another capital area standout in mind as the next addition.
"Kylin," Collins said quickly, referencing Zachary safety Kylin Jackson, who this week delayed a previously scheduled Monday commitment announcement to Saturday. "We've got to keep Kylin home.
He's a great football player. If we can get him, I think that will be big to help cap out the class, along with some other people. But I think that's who we're pushing for now."
Sampson and Jackson both joined the large contingent of Panthers who joined the celebration on Wednesday.
All the hometown support made clear impacts on Collins.
In addition to the relationships with the coaches and potential future teammates at LSU, he smiled when asked about a recent social media push to land him in purple and gold.
Players and prospects spearheaded a "#RickieReconsidered" campaign on Twitter, which quickly exploded with more fan support.
"Actually they posted it before I even decommitted, so I was like, 'Come on, guys,'" he said. "But it showed that they really wanted me. No other school did something like that. So the time that they took the time out and made it a trending hashtag, it was like, '(Wow),' the power that they have."