Woodlawn High School welcomed hundreds of alumni and former faculty back to campus on Thursday, October 3, 2019 to celebrate the 70th anniversary of the naming of the school.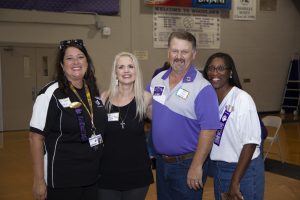 The reception in the gym marked the first time that many alumni stepped foot on the new campus that opened 16 years ago. Many alumni marveled at the size of the new school as they toured the campus with student volunteers.
Longtime basketball coach Kenny Almond, baseball coach Dary Glueck, mechanics teacher Robert Martinez, English teacher Judy McLellan, and home economics teacher Mary Ward were among the former faculty in attendance. Former principals John McCann (1996-2006) and Jimmy Newman (2006-2012) were also in attendance.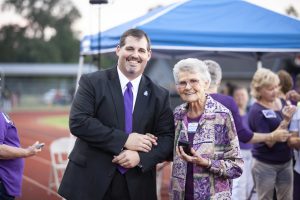 After the reception in the gym, members of past graduating classes were recognized on the track in front of the home bleachers. The Class of 1942, from the Seventh Ward School, was the first class represented, by Ms. Jonnie Lee Singleton Furnish. Ms. Furnish was recognized by current principal Scott Stevens with a lapel pin during the ceremony. Forty-eight classes were represented in total. Five time Olympian and Olympic record holder Danielle Scott-Arruda represented the class of 1990. Wendell Evers (Class of 1980), Nancy Geter (Class of 1999), and Keaton Lea (Class of 2009) were current or former faculty members who represented their classes.
The celebration was organized by the newly formed Woodlawn High Foundation. Anyone looking for information on the Woodlawn High Foundation can contact coordinator Patricia Carley via email at [email protected]