The Woodlawn High football team continued to celebrate good news Thursday with its fourth college commitment leading up to the season.
Dezaray "D.J." Delmore Jr. pledged to Southeast Missouri State's 2023 recruiting class.
"I wanted to make the decision because I felt like it was the right decision for me," he said. "I kind of felt like I was ready to go ahead and get this recruiting process over with before the season. But really I just felt like I was ready to make the decision because the relationship with them, you couldn't ask for anything better."
The 5-foot-11, 175-pound defensive back spoke repeatedly of late about the connections he felt with the RedHawks' staff.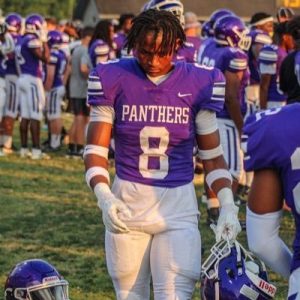 "The first thing that stood out was the relationship that they wanted to build with me and the relationship that I did build with the coaches," Delmore said. "I couldn't ask for anything more. They really showed interest in me, and they didn't just talk good about me. They actually talked to me about life, and I could talk to 'em about anything just about. I just felt comfortable, so it was a good fit relationship-wise."
That fit extended onto the field where he and the coaches feel the program's defensive scheme, including its heavy reliance on five defensive backs with a versatile nickel, will make for a perfect marriage with his talents and skillset.
"I was up there watching film with them, and they run a defense where they have five DBs on the field most of the time,"  Delmore said. "So the coach tells me all the time I would fit perfectly in their defense. And I went and checked it out for myself, and it looks like they run five DBs, run good defense and are a pretty good team. They look like they're the top team in their conference and a place where I feel like I can fit well."
Delmore joins running back Jay'veon Haynes, offensive tackle Roy Brackins III and — less than 24 hours earlier — quarterback Rickie Collins as members of the Panthers' decorated senior class to have named college destinations.
Haynes, Brackins and Collins are scheduled to attend Louisiana (Lafayette), Louisiana Tech and LSU, respectively.
And Delmore's friend in the defensive backfield, cornerback Jordan Matthews, will announce his decision Monday between Texas, Tennessee and Michigan.
"It's been an honor coming up with my teammates," he said. "We've been at this thing for a long time. So I'm blessed to be with the group I'm with, because nine times out of 10, if it wasn't for them, I probably wouldn't be the player I am."
Each college announcement — in many cases by design — locks another Panthers' focus more completely on the group's final high school season together.
The 2023 class has been instrumental in helping the program make major positive strides the past few seasons with historically notable victories, but still feels unsatisfied and hungry this fall.
"We've still got work to do," Delmore said. "Our goal still hasn't been met. We're trying to make it to the state title. And in order to do that, we've just got to continue to stay focused, keep everybody motivated everyday, keep the energy up at practice and keep getting better and take it game by game."