Senior Mya Alford continues to accumulate awards, honors, and recognitions. The Lady Panther basketballer, who was also named Homecoming Queen during the fall semester, has recently been on quite the hot streak.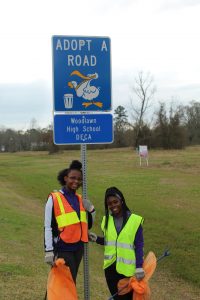 Mya competed against students from Baton Rouge Magnet High School and Scotlandville Magnet High School to win the Junior Achievement Trust Your Crazy Idea Contest. Mya presented her idea, a microwave Klean Kit, in front of a panel of judges at BRCC. Mya' idea, which includes a cleaning solution, splatter dome, and bonnet covers, was picked as the best idea in Baton Rouge. Mya was awarded with a $5,000 scholarship and the chance to compete at the state level in Lafayette. The winner of the state contest will be awarded with an additional $10,000 scholarship.
More recently, Mya earned the DECA Emerging Leader Honor Award. This National DECA Honor recognizes DECA members studying marketing, finance, hospitality and management while also being an academically prepared, community oriented, professionally responsible, experienced leader through their participation in DECA.
Mya, who currently ranks in the top 10% of Woodlawn High School's Class of 2020, plans to attend LSU in the fall. She plans on majoring in Mass Communication. Mya is active in the school's DECA chapter, participating in recent Adopt a Road programs while serving as the Vice President of Communications for the chapter.