With the powerlifting season starting this month, the Panther Powerlifters are in full swing with pre-season workouts. Coach Baronich, who is beginning his 37th year as a head powerlifting coach, is looking for his experienced lifters to set the tone for the multitude of young lifters who are expected to contribute.
Seniors Tim Bennett and Aaron Gooden, along with Juniors Matthew Sant and Mason Watson, will look to lead the boys team, which finished 7th in last year's East Regional. Senior Christian Jones and Junior Isabella Schamber are the leading returning lifters for the girls team that finished 5th in the East Regional last year. Five lifters qualified for the LHSPLA State Meet last season before the season was shut down due to COVID-19.
Coach Baronich will depend heavily on a group of Sophomores to supplement the returning boy lifters. Devyn Jones, Keenan Griffin, Jaden Sylvester, and Willie Nunnery are four lifters that are expected to contribute to the Panthers this season.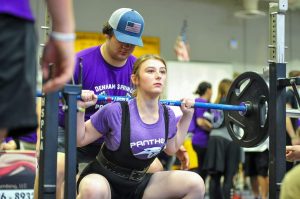 On the girls side, Junior India Morgan will join Sophomores Victoria Alder, Lauren Earl, Marie Sierra, Kara Love, and Celine Thomas as newcomers that will help lead the Lady Panthers.
Coach Baronich  says that he has high expectations for both teams.
"Expectations for the boys team is high. We are returning a lot of experience with a lot of young talent. For the girls, we are still a very young team experience-wise because of the early graduation of three regional team members this year. Christian Jones is the lone senior of the group, looking to improve on our Regional finish from last year."
The Panthers will begin their season on the road at the Joey Chutz Invitational at Denham Springs High on January 23rd. The Panthers will also attend the St. Amant Invitational on February 6th, and will host a boys and girls Tri Meet on January 30th and February 11th, respectively.
The Panthers will return to Denham Springs for the LHSPLA Girls and Boys East Regional on February 26th and 27th, and those lifters who qualify for the State Meet will participate at Fant-Ewing Coliseum on March 19th and 20th.
Athletes who would like to join this year's Powerlifting team can contact Coach Baronich in the gym before December 18th for information.