The Panther football team will host their Second Annual Golf Tournament on Monday, April 10th. The tournament will once again be held at Santa Maria Golf Course, located at 18460 Santa Maria Parkway. The four-man scramble tournament will have a morning and afternoon tee time again this year. The morning golfers will tee off at 8 AM, followed by a 1 PM tee time for the afternoon group.
"The bottom line is, the goal of the golf tournament is to raise money for our student-athletes within the football program. But secondarily, we are looking to continue to build relationships with members of the Baton Rouge community," said Head Coach Daniel Luquet. "We are proud of the things that we do at Woodlawn, and we want people in our area to see those things. The golf tournament is one of the ways we do that."
Coach Luquet and his staff were extremely pleased with the outcome of last year's tournament. The tournament featured 33 four-man teams and over 75 sponsors. Golfers were inundated with food and beverages around the course. The tournament looks to increase the amount of food around the course, with a plan to have six vendors on hand to pass out food along the 18 holes.
Many local businesses and community members have already agreed to sponsor the tournament again this year. Local celebrity chef and soon-to-be restaurant owner Jay Ducote has once again agreed to donate his time and services. Ducote will again team up with City Pork to feature pork tacos from his upcoming restaurant, Gov't Taco. Rob Wise and the group at ITinspired, Blaine Brignac and his team at Farm Bureau, Mike Tramonte of Tramonte's Meat and Seafood Market, and local supermarket Hi Nabor have also all agreed to once again sponsor the tournament.
This year's tournament will once again feature multiple side games that golfers can compete in throughout their 18 holes. Among these games will be a longest drive competition, multiple par three competitions, and golfers will once again have the opportunity to catch a punt for a shorter drive off the white tees of a selected hole.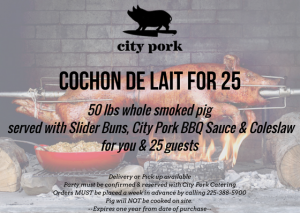 Along with many food and games available, golfers will also have the opportunity to win multiple prizes through raffles and drawings. One of the headliners of this year's prize package will be donated by City Pork. The restaurant is offering a Cochon De Lait for 25 people, available for pickup or delivery.
"We had a great time at last year's tournament, and we look for an even better turn out this year. This is quickly becoming one of the highlights on our spring calendar, and leads us seamlessly into Spring Football and our summer workouts," added Luquet.
Those interested in playing in the tournament or sponsoring the tournament can find the registration form at the bottom of this article. The registration fee for golfers is $100 each. A hole sponsor is also a $100 donation.
For more information about the upcoming tournament, please contact Coach Luquet at (504)644-3569 or at [email protected]
Golf-Tournamnet-Registration-and-Sponsor-Form