Cross Country Head Coach Tim Spruill is beginning his second year in the program. After a first season in which his program saw continual improvement, he is looking for bigger and better things this year.
"Our number one goal this season is to increase the size of the teams to allow for a better breakdown by ability within the teams," said Coach Spruill. "Athletes need comparable athletes to train with in order to grow. Right now we have too much diversity and too few athletes to allow diversification."
While the size of the team is important, Coach Spruill did not forget to stress that he looks for his team to get better.
"The number two goal is to see someone break the boys and girls school records for our sport," added Spruill.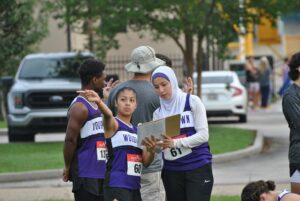 Carolina Alvarado is the returning captain for the Lady Panthers, and seems to be the most likely candidate to achieve the second goal. Alvarado was consistently the Lady Panthers' highest finisher last season.
Joining her this season are two newcomers that Coach Spruill has been impressed with in the early part of the season. Jaden Sylvester is joining us from football and baseball.
"Jaden brings a can-do attitude, a smile, and a ton of grit. He will be a great addition to the team," said Spruill.
Kennedi Kullman is a freshman that Coach Spruill pointed to as a possible contributor as well.
The Panthers are excited about traveling to diverse meets this season. The unpredictable courses are fun and vary from their home course.
Over the past two years, the Cross Country program has worked a lot on consistent training and positive attitudes. This season looks to be the best yet in both regards, and fast times are expected for this group.