Two Woodlawn seniors will announce during the next six days their commitments to sign scholarship offers with two of the nation's premier college programs.
Both announcements will be broadcast live via the school's YouTube channel.
"I think it's a big deal for the program obviously now to be getting a lot of national attention not just for those guys, but for our school and our team," coach Marcus Randall said. "That's a great thing for us overall. Those guys are going to have their day, and then hopefully they can be able to lock in and we can go win this championship."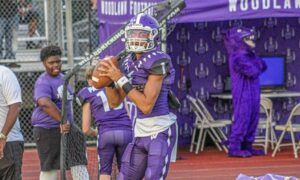 Collins has been a hot name on the recruiting trail for a year and a half now — with 22 offers — but particularly with pushes the past month and a half from hometown LSU and nearby Florida State.
The 6-foot-3, 185-pound passer ranks unanimously as a four-star prospect among the nation's 200 best in his class at any position across the major recruiting outlets, including as high as No. 103 according to Rivals.
He has been a three-sport standout for the Panthers, including four years leading the football team's offense, and a finalist in this past summer's Elite 11 as one of the nation's best players at his position.
"It's really just a blessing and a good situation to be in," Collins said. "The opportunity is big just to be able to have everyone out there, my family, coaches, family friends and everybody who was with me on the journey and in my corner through it all. It's a tough decision because it's long-term, but it's just a blessing."
Matthews has narrowed down a list of 33 scholarship offers to three finalists in Texas, Tennessee and Michigan.
The 6-foot-1, 180-pound defensive back is also a unanimous four-star and top-200 prospect nationally, according to all four major networks, including as high as No. 125 by Rivals.
He has been a two-sport standout since childhood, including winning a track state championship as a member of the Panthers' 4×200-meter relay team as a sophomore and preparing now for his third football season in the starting lineup.
"I just feel like I'm going to do what's best in my heart and follow my heart," he said. "My process is my process, and I ultimately wanted to do it before the season just to enjoy my senior year with my brothers and win a state championship."
The duo will officially sign in December as two of the most prominent football prospects in Woodlawn's history, regardless of their selections.
And Randall emphasized the extent that impact has had beyond their performances on the field.
"One thing is they both are leaders," coach Marcus Randall said. "If you're looking at the grade-point average, Jordan's somewhere near a 4.5 and Rickie's right at a 3.5 or 3.6. So they're doing it not only on the field, but they're doing it off the field. Their leadership has helped basically take us to the next level. We knew coming here that they were those type of guys, but we obviously had to see them get there.
"And we knew that when those guys would get rolling, that you'd not only see it for themselves, but now they're bringing a lot of national attention here and that means a lot of our other guys get increased opportunities to get seen and get some recognition."