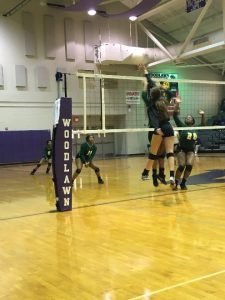 After a good showing in the South Louisiana Invitational this weekend (2-2), the volleyball team dropped two in row this week.
On Wednesday, the Lady Panthers went five sets in a hard fought match against False River Academy. The Panthers won the first set, but lost the second. They fought back from 23-17 to win the third set 29-27. The Lady Panthers lost steam after winning a hard fought fourth set. False River finished off the match with a strong finish in the fifth.
On Thursday, the Lady Panthers squared off with Baton Rouge High. The Lady Panthers looked strong with a tremendous offensive effort by Kerri Williams who had 8 kills, four aces, along with a block, but it was not enough to overtake the strong offensive effort by the Bulldogs.
The Lady Panthers will see action this Monday at Southern Lab.