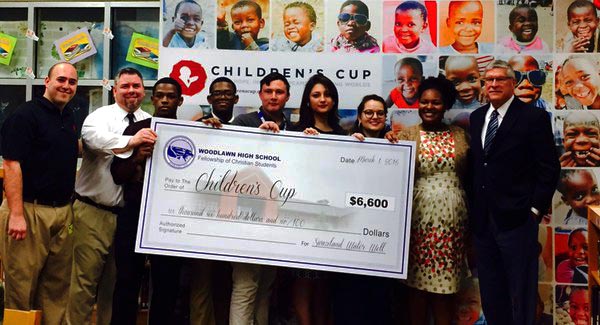 by Elizabeth Roquemore
The FCS club recently received some great news! The club finished its fundraising efforts to build a fresh water well in Swaziland Africa. The FCS club, WHS students, WHS teachers, and several local businesses raised a total of $6,600 to help a needy village have clean drinking water. It took Mr. Daniels and his FCS leaders a year and a half to raise the money, but they are so glad to be serving a needy community. Mr. Daniels has been quoted saying, "most people around the world live on less than $1 per day and many of those people don't have access to clean drinking water, so it's important our students at Woodlawn High understand try to help as much as possible." The nonprofit organization building the water well is Children's Cup. Please visit this website to see how they help needy communities in Africa and Central America: www.childrenscup.org . WHS also wants to recognize the following local businesses that donated to the Water Well Project. They are as follows: Baker Printing, Rockstar Racing, Chick-fil-a, and Alexander's Fresh Market. The well should be completed in May so be ready for some photos of the finished product before we get out of school!
FCS stands for (Fellowship of Christian Students) and for over 5 years Mr. Daniels, a social studies teacher at Woodlawn High, has sponsored the club. Everyone is invited to visit FCS if they so choose, regardless of their beliefs. FCS shares a positive Christian message, but Muslim, Jewish, and even atheist students have visited and enjoyed their experience. It is important the club follows Separation of church and state laws so the club only meets during lunch, and it is definitely optional. FCS meets once or twice per month during both 1st and 2nd lunch shifts, and they usually have snacks. The final FCS meeting of the year will be Friday April 22, and all students are invited.
The picture you see are of the $6,600 check presentation to Children's Cup. Mr. Daniels wants to thank his FCS leaders for their sincere dedication to the club – Miles Graeser, Brian & Ryan Williams, Kathryn Candia, Katelyn Holmes, and Janelle Carwile.