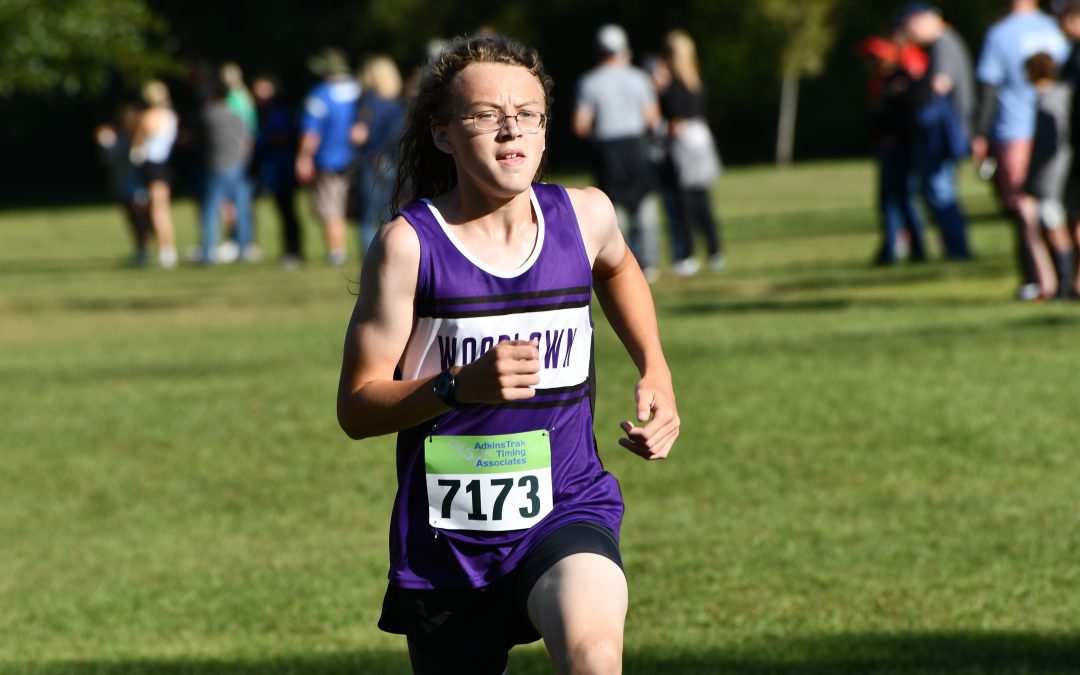 While the final week of September did not have as many home events as the previous week, it still seemed busier than ever. Homecoming brought it's normal festivities, along with packed stands Friday night at the football game. Volleyball, cross country, and swim were all in action as well. Tickets for all home events can be purchased online.
Cross Country
The Woodlawn cross country team made the short trip to Highland Road Park to compete in the St. Joseph's Invitational. The meet was the largest meet that the Panthers have competed in this season, as over 590 boys ran Saturday morning.
Sophomore David Ferguson led the Panthers with a time of 20:02.03, which was a personal record. Freshman Liam Dowdy and seniors Jaden Sylvester and Dylan Aucoin all finished within six seconds of each other, at just over 23 minutes for the race. Dowdy's finish (23:01.23) was also a personal record.
For our Lady Panthers, seniors Andrea Rodriguez and Kaitlyn Arceneaux each finished with personal records.
Coach Tim Spruill seemed pleased with the team's performance Saturday.
"Liam and David each came out and set personal records today. So did Andrea and Kailyn," said Spruill. "All I can do is ask our athletes to come out and push themselves to improve each week, while having fun and developing a lifetime love for running."
Next up for Cross Country: Saturday, October 15 – Zachary Bronco Stampede at Port Hudson State Historic Site
---
Football
A busy Homecoming week began with the Woodlawn freshman and JV teams traveling to Walker High School on Monday, September 26. Both sub-varsity teams had strong showings, with neither team taking a loss. The freshmen were able to score twice, but also gave up two touchdowns, and finished with a 14-14 tie. Woodlawn's JV team was too much for the Wildcats, as they came away with a 30-8 victory over Walker.
The varsity team looked to continue the momentum from the sub-varsity games when they took the field Friday night. In front of a packed stadium, the home team took a 14-6 lead into halftime on a pair of touchdown passes from quarterback Rickie Collins to fellow seniors Clayton Adams and Tramon Douglas II.
Woodlawn (2-3) extended it's lead to 21-6 when Adams had a 13-yard touchdown run, breaking several tackles on the way to the end zone, early in the fourth quarter.
Following two quick touchdowns and successful two-point conversions by the Wildcats, Woodlawn found themselves down 22-21 with 8:03 left on the clock.
The Panthers were not yet done scoring. Collins, Adams, senior running back Jay'veon Haynes and company pieced together an answer with a long drive and goal-line Collins run to pull back ahead, 27-22, with 3:05 to play.
However, the storybook ending would not be written in Woodlawn's favor. With just 16 seconds remaining on the clock. St. James was able to take the lead, 28-22. The successful two-point conversion accounted for the final score, 30-27.
Woodlawn will host reigning Class 5A champion Zachary next Thursday in a District 4-5A opener that ESPN will broadcast to a national audience.
Next up for Football: Tuesday, October 4 – Freshman and JV at Zachary; Thursday, October 6 – Varsity versus Zachary
---
Swim
Woodlawn High School's swim team had their best showing of the season, finishing third in the team ranking this past Saturday.
The boys' team was led by James Skiles, Peyton Rodgers, and Trey Holiday, who each scored over 20 points in their races.
Skiles competed in both the 100 and 200 yard freestyle races. He finished fourth in the 200 yard freestyle with a time of 2:25.44 and collected 15 points for his team. Skiles finished with a time of 1:00.27 in the 100 yard freestyle, narrowly finishing sixth and netting 13 points for Woodlawn.
Rodgers competed against Holiday in the 200 yard individual medley, edging out his teammate for a fifth place finish with a time of 2:42.94. In the 100 yard butterfly, Rodgers also finished in fifth place. Rodgers totaled 28 points for the Panthers.
Holiday finished sixth in the 100 yard breaststroke with a time of 1:26.19 and seventh in the 200 yard individual medley with a time of 2:50.87. Holiday scored a total of 25 points in his individual races.
The boys 200 yard medley team consisting of John Cador, Holiday, Rodgers, and Zack Lemoine finished third with a final time of 2:07.75.
Kelis Kent led the Lady Panthers, winning a heat in the 50 yard freestyle and finishing fourth in the 100 yard backstroke with a time of 1:37.31.
The swim team will now prepare for the CCSL Championship Meet on October 28 and 29.
Next up for Swim: Friday and Saturday, October 28 and 29 – Capital City Swim League Championship Meet at Crawfish Aquatics
---
Volleyball
In a slower week for the Lady Panther volleyball team (17-8), Woodlawn only competed in three matches this week.
The Lady Panthers began the week at Woodlawn Middle School due to a conflict with the rescheduled date of Open House. Woodlawn faced Port Allen in a three game set on Monday night, with the Lady Panthers varsity team coming away with a straight set victory, 25-15, 25-12, 25-17.
The next two matches for Woodlawn found the team traveling, first to Central Private for a match on Wednesday night. The Lady Panthers were pushed to four sets before earning the victory 25-11, 25-16, 24-26, and 25-13.
The final match of the week was held on Thursday night, with Woodlawn dropping the match in straight sets.
Woodlawn will be on the road for two of three matches this week. District 4-5A play will begin on Wednesday, when the Lady Panthers travel to Central.
Next up for Volleyball: Monday, October 3 – JV/Varsity versus Capitol; Wednesday, October 5 – Freshmen/JV/Varsity at Central; Saturday, October 8 – Freshmen/JV/Varsity at St. John of Plaquemine
---
Baseball Practices Begin
Now that October has come, baseball practices are set to begin. Those interested in playing baseball who are not participating in a Fall Sport should see Coach Kohn. A valid physical is necessary to participate.