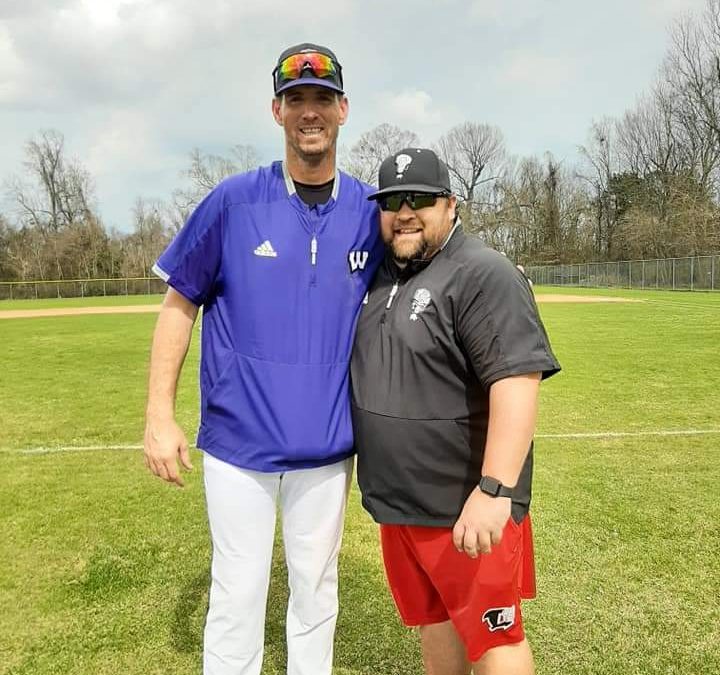 New Head Coach Jonathan Kohn knew the history of the Woodlawn High Baseball Program. Kohn grew up in Baker, and was always aware of the Woodlawn baseball teams. When he was named Head Coach, he knew that he needed to lean on that history in order to build for the future.
One of Kohn's first attempts to build the program was to invite former players to Alumni Day. The Panthers faced Family Christian Academy on Saturday, February 27th in front of family, friends, and alumni. The Panthers did not disappoint their fans, as they came away with a 21-11 victory.
Woodlawn High was led by junior right hander Khalil Lee, who recorded the win on the mound. Lee threw four complete innings, allowing only one run, and striking out three FCA batters. The Panthers were led at the plate by senior outfielder Troy Washington and junior utility player Braeden Hodges. Washington went 2 for 3, including a three RBI inside-the-park homerun in the 1st inning. Hodges reached base all three at bats, with two hits and a walk.
Several Woodlawn Baseball Alumni were present at the game. Former Panther Dutchie Blanton, Class of 2001, threw out the ceremonial first pitch. Justin Reynolds (Class of 2000), Chad Risher (Class of 2004), Chris Morals (Class of 1991), and Frank Ritter (Class of 2020) were also in attendance. Also present were former Woodlawn Baseball coaches Ron Turpin, Norman Browning, and Donny Walton.
Coach Browning took time to speak to the current team after the victory.
"Woodlawn has a long history of success in baseball. This program means a lot to many people, and they want to see this program successful. We will do our best, as alumni, to bring more members of the Woodlawn Baseball Family back to Woodlawn," said Browning. "You, as current members of the program, are the key to the future success of this program."
Coach Kohn would like to thank all members of the Woodlawn Baseball Alumni for attending Saturday's game. A special thank you to Dustin Felton, Woodlawn Alumni member and owner of Rice and Roux, for providing post-game jambalaya for both teams.
The Panthers will be back in action three times this week. Woodlawn will travel to Pete Goldsby Field to face Madison Prep on Monday, March 1st, before hosting Scotlandville on Wednesday, March 3rd. The Panthers will also host Port Allen on Thursday, March 4th.
Tickets to all Panther home games can be purchased at the Panther online tickets store by clicking here. Tickets will become available each Monday for that week's games.